Big Tech and politics - the effects of events in the USA on social networks
I am interested in technology, the most obvious manifestation of which is naturally Element. At the same time, the USA's recent developments and their relationship with technology, and more specifically with social networks, are so interesting that I decided to write this article that has nothing to do with our recruitment system, with recruiting and with the HR area in general.
To the point.
Big Tech is the largest IT company in the USA. They include mainly Amazon, Apple, Google, Facebook, and Microsoft. In political discourse, Twitter is also often classified as Big Tech due to its enormous potential for disseminating information and a special role in political campaigns since Donald Trump started his Twitter activity.
Trump's term in office has brought about a lot of controversies, the apogee of which in the context of Big Tech is currently being observed:
Trump's Twitter account was blocked, and all posts were deleted.
Twitter account Official US President (@POTUS) – Recent Trump posts are being deleted, but the account has not been banned.
Trump's Facebook account was banned.
Trump's Instagram account was banned.
What are American Conservatives doing at this point? They are moving massively to the Parler messenger, which guarantees greater freedom of published content and brings promises of no censorship known from Twitter, Facebook, and YouTube.
The transfer of users to Parler is so large that the application cannot run smoothly, and in recent days there have been problems with its operation.
At the same time, Elon Musk, who has been criticizing Facebook since the Cambridge Analytica scandal (he removed his own profile, Tesla or Space-X from this portal), first pointed to the relationship between Facebook and the current political tension: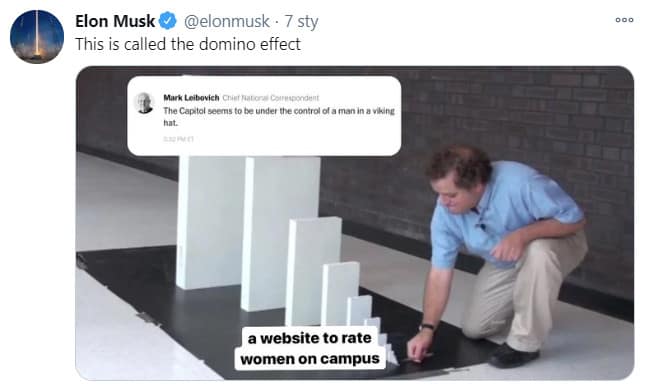 So we have, on the one hand, censorship and account blocking by giants of internet communication. On the other hand, emerging alternatives for which the current situation is a wind blow, and one Musk post causes a hurricane.
Parler
i
Signal
immediately hit the list of the most downloaded apps in the AppStore: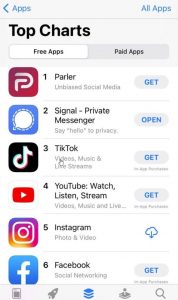 What is Big Tech's reaction? Google and Apple are removing Parler from their stores because the app contains incitement to violence. Amazon terminates the agreement to maintain the application on its servers. The notice period is 24 hours. The reaction is, therefore, ruthless. The polarization of society driven by social media (the mechanism of this polarization was perfectly presented in the movie
Social Dilemma
available on Netflix), not only led to an enormous exacerbation of political disputes but also caused a mass movement of users from dominant networks to emerge alternatives such as
Parler
,
Minds.com
,
Signal
 or 
Telegarm
.
The current situation is also an unquestionable signal that there is not only space but also a growing need to build alternative solutions. This could initiate something that has hitherto been unimaginable, which is slowing the growth of Twitter, Facebook, and Google's dominance and then breaking it. To sum up, I am observing the next events with great interest. I am concerned about voices in the US to refuse to provide services to companies or individuals with certain social or political views. I would not like Google, whose services the infrastructure of our
applicant tracking system
is based on, once asked us with an ultimatum to stop providing services to any client just because, for example, his company is doing something inconsistent with some political or social opinion. In Poland – my home country – it seems to be a complete abstraction, but "
cancel culture
" has already developed very strongly in the USA.
Please also:
Get to know 

our

ATS, which makes recruitment easy and effective;
Read other related posts:
DISCOVER ELEMENT!
Recruit easily and efficiently thanks to tomorrow's technology
Dive into our in-depth tutorial on GDPR-compliant recruitment. Master best practices for sourcing, direct search, job advertisements, and candidate verification to ensure full compliance with GDPR standards.
READ MORE »