IT recruitment on the Polish market in Q1 2020. Element ATS Report.
Pandemic is a time when I can focus more on working with the programming team developing our ATS, as well as on creating more reports. Therefore, here we have yet another report, which presents data on recruitment activities in the Polish IT market.
The data comes from the tools used in our ATS to monitor the recruitment market. Thanks to these tools, our recruitment system analyses the content of job ads published on several dozen job boards and Linkedin portal.
The first list is the number of job offers in the IT industry, registered by our ATS, broken down into individual months of the first quarter. It is worth mentioning here that in the first quarter of this year, more than 3000 companies have published job offers.
More offers in the IT industry - ATS Element report
Our data shows that, contrary to our fears, there was a significant increase in the number of job offers in March. This increase is exceptional in the scale of the whole market. According to our previous research, the vast majority of the labor market recorded strong declines in recent weeks. Links to other reports can be found at the end of the article.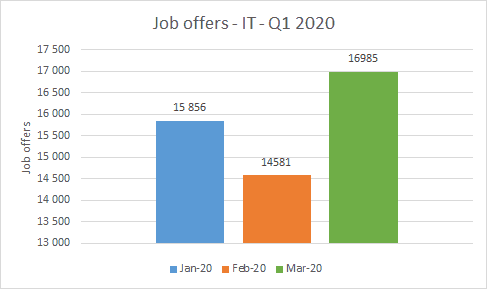 companies publishing the most offers - ATS Element report
The second list presents twenty companies that published the most job offers in the IT industry in the first quarter. The graph presents the number of recruitment offers in particular months, as well as in the entire first quarter. Among the leaders we have such entities as Hays, Capgemini, Astek, TeamQuest, Grafton, Luxoft and Sii.
(click to enlarge)
In the next ranking, we summarized the data of the ten companies which, according to the data from our ATS, published the largest number of recruitment offers. These are the companies:
Hays
, 
Capgemini
, 
Astek
, 
TeamQuest
, 
Grafton
, 
Luxoft
,
Sii
,
UBS Service Centre
,
Devire
, and
NBC
. For each company, we have prepared a list of six:
the most frequently appearing jobs

the most frequent recurring locations

most frequently used recruitment portals
First, a summary of all ten companies (click to enlarge):
and broken down into individual companies (click to enlarge):
I limit my role primarily to providing job offers data from Element ATS, so I will not make a wider comment here. I will just point out that the increase in the number of recruitment offers in March is interesting. I wonder to what extent this increase results from the actual increase in employers' recruitment needs, and to what extent it is a result of the strategy of building a database of candidates who are certainly much more active on the recruitment market during the pandemic.
Related posts:
hashtags# report jobs offers ads recruitment ats Element
2021 was a period of a strong rebound in recruitment companies and temporary work agencies. Check details in the report published by the Polish HR Forum.
READ MORE »