Element qualified for the Huge Thing pre-acceleration program
Out of over 175 European startups, Element applicant tracking system (ATS) has been qualified for the Huge Thing pre-acceleration program, which is run in cooperation with Google For Startups. Our team is one of the 15 selected to the program!
We are proud and consider it a signal that we are doing a good job providing recruiters and hiring managers with modern tools that reduce the time and cost to hire. It is also another signal for us that we are doing a good job providing recruiters and hiring managers with modern tools that reduce the time and cost of recruitment.
In this article, I provide some information about what the Huge Thing Pre-Acceleration program is.
What is the Huge Thing Pre-Acceleration Program?
Huge Thing is a pre-acceleration program designed for startups in the pre-seed and seed phases. The program is aimed at startups from Europe – mainly from Central and Eastern Europe, the Baltic States, the Balkans, and Greece – that operate in education, medicine, games, sustainable development, and other industries with global potential. The program aims to validate business ideas and prepare startups for the first investment round. It provides startup founders with the tools and knowledge that enable them to build solid and profitable businesses. The recruitment process for the program consists of 3 stages: collecting online applications, conducting online interviews with selected startups, and online Bootcamp. Usually, the program is carried out stationary, but the current edition, for obvious reasons, is carried out online.
Cost and commitment
Participation in the program is free of charge for startups that have successfully recruited. The big challenge, at least for me, is the time involved. Our ATS has been built for years by a strong but still small team. All activities related to sales, marketing, customer service, cooperation with the development team focus on me. With the constantly growing scale of business (thank you to all the current and joining customers!), It is challenging to find an additional dozen or so hours a week to participate in the program.
Content and contacts
I have no experience participating in such programs, but the first impression after two weeks of the program is very good. Group and 1on1 meetings with experts concern many key issues for startups (and not only). Below is a complete list of topics:
Sales
Company Culture/Leadership
Revenue Stream and Costs
Fundraising
Google Cloud
Although the whole program is done online, the classes are often conducted as workshops. This form of the program is engaging and facilitates the assimilation of new knowledge and its implementation into the daily life of a startup. Workshop work always concerns our startup and consists of solving specific, real problems that we are currently struggling with. As a result, we receive ready-made solutions to these problems that we can immediately implement. It is the priceless value of the program. The role of experts is played by professionals experienced in building and supporting innovative businesses. You can absorb practical knowledge, especially during 1on1 sessions. My questions, doubts, or fears find quick, specific, and experience-based answers. It is of great value that I can ask experts to look at my business concerns and dispel my concerns. Additionally, each startup has a mentor with whom regular meetings are held. We can talk on any business topic; however, we focus mainly on discussing the changes we implement in the startup following the knowledge and practice acquired during the program. The contacts we gain during the program have, of course, priceless value. All Huge Thing participants, both experts, and startup teams establish direct contact with each other, also during virtual cups that startups organize with each other, allowing sharing their own experiences and impressions from participation in the program.
Experts / Mentors / Tutors (Linkedin profiles):
and
Agnieszka Cichocka
, who is in charge of the organization of the entire program.
Startups:
Underline
,
Zoyya
, Catcoda, Vetforcall,
GetMeHired.ro
,
Sharewell
, Happy Kids,
Ecolyze
,
SeaMore
,
Cyan Reef
, Biobetter, Alikeme, Enabla,
Paulai Tech
,
Element
Effect
The effect I see for
Element
after the first two weeks is that we are finally doing what we knew was needed, but for various reasons, we didn't do it before (the most common one was "lack of time"), or we didn't realize at all that we should do anything else. Now the development of our
applicant tracking system (ATS)
has the support of the best experts and mentors, who helps overcome various challenges.
Is it worth it?
Programs like Huge Thing are an excellent opportunity to gain knowledge and practice from people who have specialized in supporting new businesses and innovative ideas. Because participation is free (although you have to qualify for it), the value of practical knowledge, especially for younger entrepreneurs, is invaluable, and I highly recommend participating in such a program.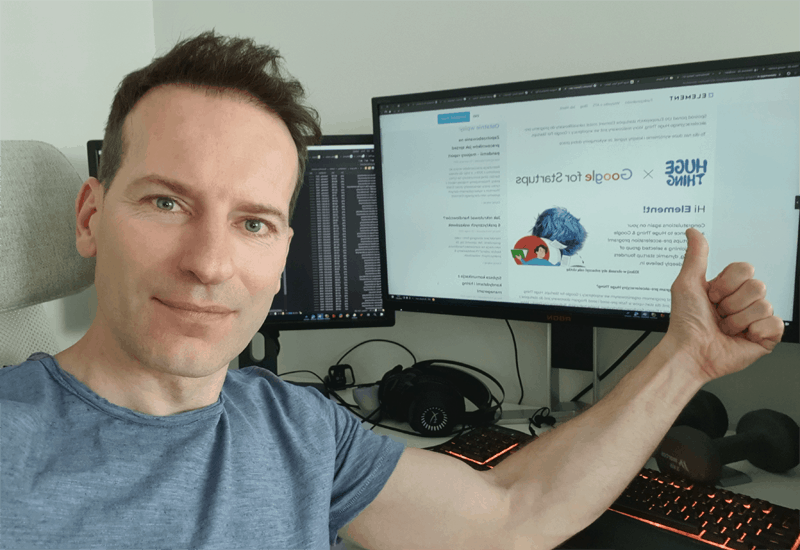 DISCOVER ELEMENT!
Recruit easily and efficiently thanks to tomorrow's technology
2021 was a period of a strong rebound in recruitment companies and temporary work agencies. Check details in the report published by the Polish HR Forum.
READ MORE »