The labor market is making up for losses! Data from the Element System - June 2020
Despite the beginning of the summer holidays, the labor market is still making up for the losses caused by the freezing of the economy and the restrictions related to the coronavirus pandemic. Check the latest data that appeared in the report prepared in cooperation with Element and Grant Thornton Poland.
Polish labor market in June 2020
In June, 246,000 job offers were published on Polish recruitment websites, i.e. 25% more than in May and over 57% more than in April. Compared to June last year, the number of job offers is only 16% lower. These data show that the labor market is slowly returning to the state it had before the government restrictions. Employers are making bolder decisions, employees are returning from home office to company offices and further recruitments are planned. In addition, the report also gives hope for the future. It is very likely that the situation will return to normal in a few weeks and the labor market will stabilize for good.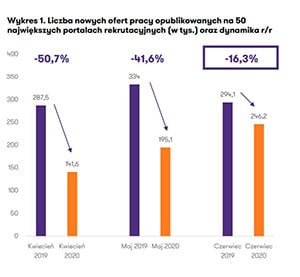 Data source - monitoring module in the Element system
The report was prepared by Element and Grant Thornton Poland. The data is collected using the automatic job monitoring tool provided by the Element system. A specially built-in module allows you to monitor and analyze over 50 of the most popular portals in Poland. 
DISCOVER ELEMENT!
Recruit easily and efficiently thanks to tomorrow's technology
2021 was a period of a strong rebound in recruitment companies and temporary work agencies. Check details in the report published by the Polish HR Forum.
READ MORE »